At Empire Contractors we offer you with flawless flat roof replacements to the people of Kentwood, MI. It doesn't matter what type of flat roof you are in need of, our team will get you and your roof taken care of as soon as possible. Our team installs and maintains a huge array of commercial roofs and they are ready to help get your roof replaced today. Call us today at (231)-861-7221 and let us help with your roofing needs.
Make Sure A Replacement Is Needed
While our team offers flawless roof replacements, they will always inspect your commercial flat roof thoroughly to be sure that you are actually in need of a flat roof replacement. A large number of commercial roofs are prematurely replaced and at Empire Contractors we want to help you in avoiding that error. Our professional contractors will be upfront and honest with you about the condition of your roof. They will also work toward a restoration or repair before a replacement gets brought up.
Roof Coatings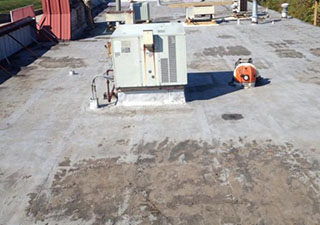 Roof coatings are an amazing way to help restore your roof and your roof will be performing like its old self when you first had it installed. Coatings prevent you from having to pay the expensive cost of replacements. At Empire Contractors we choose to use the absolute best roofing materials on the market to make sure your roof lasts you as long as possible. Our team uses Conklin Roofing Products that come equipped with warranties. Conklin roof coatings are the best coatings there are and will defend your roof for many years. Give us a call to get a truthful response on the condition of your roof, if our team believes your roof can benefit more from a coating or other restoration services, they will inform you. They will also let you know if your roof is needing a replacement.
Contact Us Today
When you work with us you are receiving the highest quality customer care and workmanship from our professional contractors. We provide you with estimates in the Kentwood, MI community. Contact us today at (231)-861-7221 and get yours today.