A flat roof replacement should be performed by a commercial roofing company to ensure the project is completed flawlessly. Without a proper installation, your roof can fail sooner than expected. Commercial roofs are made to last an exceptionally long time. With proper installation and maintenance, your commercial roof can last for decades. Empire Contractors offers fantastic flat roof replacement services! We have an extensive list of roofing options to choose from, which means you can find the right one for your budget and needs. Commercial building owners in Coldwater, MI, can rely on us for all their roofing needs. Call us today at 231-861-7221 to learn more!
Wide Range of Options
We believe that options are good. That is why we offer such a wide variety of roofing systems for our clients to choose from.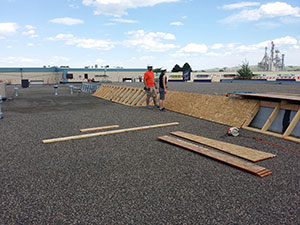 Every roof material we offer is of the utmost quality. When properly maintained and installed, your roof will last you for many years. We are passionate about giving our customers different options to choose from. This allows you to select the material that is best for your needs.
From single-ply roofing to metal roofing to rubber roofing, we want to make sure you know the advantages and disadvantages of each one. This will allow you to make an informed decision.
If you would like a chemical-resistant roof, then a TPO or PVC roofing system is the best choice for you. If you are looking for a more cost-effective choice, then an EPDM roof may be best for you.
You may be daunted by the many roofing material options available. Don't worry! Our highly experienced team is here to help. We can work with you to answer your questions and help you choose the best option for your situation.
Call Us Today
With spring fast approaching, now is the best time to schedule your roof inspection! This will help us know whether a replacement is necessary. If it is, then our team will help you choose a roof system and install it as soon as possible. Call Empire Contractors in Coldwater, MI, today at 231-861-7221! We look forward to partnering with you.