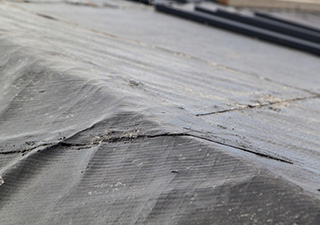 Single-ply roofing is the most common roofing system atop commercial buildings in Albion, MI so it is only natural that it is one of the many areas of expertise of the roofing specialists at Empire Contractors. As an industrial building owner, whether you require single-ply roofing installation, repair, restoration, or even its replacement, we have got you covered. Reach out to us at (231) 578-4760 and learn more about single-ply roofing services!
Is Single-Ply Roofing Worth It?
The easy installation, low-budget maintenance, and affordable prices of a single-ply roofing system make it the top choice of commercial building owners in Michigan. There are three categories of single-ply roofing, namely Thermo Polyolefin (TPO), Polyvinyl Chloride (PVC), and Ethylene Propylene Diene Monomer (EPDM).
Regardless of the type of single-ply roofing you have atop your commercial building or you intend to have installed, there are some perks that you will be offered. For one, single-ply roofing is known to be quite resistant against a variety of weather hazards so given that it is flawlessly installed, you can expect a decades-long life of maximum performance out of it. Furthermore, a single-ply roofing system is generally reflective, meaning that your building will become more energy-efficient, hence cutting down on our utility bills. There are a plethora of other pros of single-ply roofing as well, some of them exclusive to each type. For more information, we are just one phone call away!
Full-Service Contractor
As a full-service roofing contractor with considerable experience of over 20 years, Empire Contractors come equipped to handle just about anything concerning your single-ply roofing system. We always commence our job with a thorough roof inspection to sniff out the real cause behind your roofing woes. Once we have figured out exactly what your roof needs, we bring nothing short of our very best to successfully execute it.
Call Us Today!
Are you looking for dependable single-ply roofing services in Albion, MI? If so, then you have come to just the right place. The fully licensed and insured technicians of Empire Contractors are here to help you get rid of absolutely anything that is troubling your commercial roof. Give us a call at (231) 578-4760 and let us comprehensively inspect your single-ply roofing system.