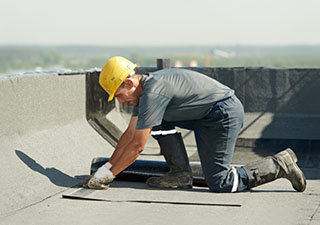 There are all types of flat roofing systems out there, so how do you know you're hiring a roofing contractor that can help you with your specific one? Doing a little research into the roofer you hire can pay off greatly and here at Empire Contractors, we're honored to be a leading commercial roofing contractor in the Gaylord, MI area. As a full-service roofing contractor that's been delivering quality solutions for decades, we know all roofs are unique and we custom tailor our roofing services to better fit your roof's needs. When you need a repair completed on your flat roof, no matter the kind, call Empire Contractors for a job done right on the first try. Don't let roofing headaches bog you down, reach out to our team today at (231) 861 – 7221.
Quality Repairs
Anytime you call on us, whether it's for a repair or other service, you can be sure our roofing professionals will be delivering only quality solutions. We know our work will help your roof succeed because we continue to bring only the highest quality roofing materials and every roofer we have is adequately trained to bring your roof the best. Our workmanship is outstanding, but we know with lackluster products it would never have the chance at long term success.
Your roof was designed to last so it only makes sense to work with a team who will help that to happen season after season. A roof in need doesn't need to be a stressor, your roof was intended to last for decades, so a few repairs and services along the way isn't out of the question. With routine inspections and maintenance, you'll be able to keep any requirements your roof has to a minimum and that's always our goal here at Empire Contractors.
Call Us Today
When the time has come for your flat roof to be repaired, Empire Contractors is the team you can trust to get things done in a timely manner. With quality roofing materials and professional roofing contractors, no repair is too large or complex for our team! Don't let a simple repair sit and become more widespread, call us today at (231) 861 – 7221 for trusted solutions in Gaylord, MI.