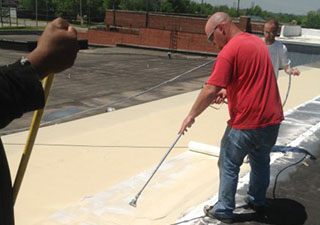 If you own or manage a commercial or industrial property, then you likely know the roof that sits atop that building is a valuable asset. Keeping it in top shape doesn't need to be a stressor and when you work with Empire Contractors, it won't be a bank breaker either. We know your roof is a major investment and we're proud to bring building owners, property managers, and more in Ada, MI a complete list of high quality, affordable commercial roofing services. Your roof should last for decades and it will have that chance when you have our team keeping things in check. Reach out today at (231) 861 – 7221 to get a roof inspection scheduled before the storms of summer are here in full swing.
Inspections and Maintenance
Two simple and incredibly effective ways to help you get the most from your roof and investment continue to be routine roof inspections and maintenance. At Empire Contractors, we keep things hassle free for our customers with our customizable roof inspection and maintenance programs. Call our office today and find out how being proactive about the needs of your roof can help save you time and hassle year after year.
Repairs and Restorations

Common services for our team, roof repairs and restorations are something you're sure to have to deal with throughout your roof's long life and that's ok! A roof due for repair or restoration shouldn't be a stressor and if you catch these needs early on, they certainly won't be! If your roof is due for service, it doesn't mean it's seen the end, it just means it needs a little assistance to get back to its peak condition and we're here to help make that happen.
Replacements
If the time has come for a new roof to be installed on your building, you can trust that our roofing professionals will get the job done flawlessly from the start. We work to help all our customers get the longest lives from their roofs, but the time will come when a roof replacement is the best decision. We have an extensive list of roofing options so you can be confident you're getting the best roof for your building and budget.
Call Today
If you need commercial roofing services completed on your building before the summer hits here in Ada, MI, call Empire Contractors today at (231) 861 – 7221. We're more than honored to be the full-service commercial roofing contractor for those in Western Michigan and we're ready to put our more than two decades of experience to work for you.