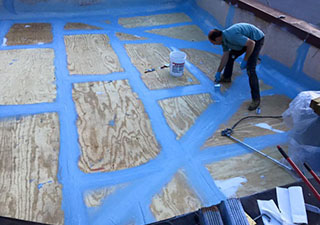 Commercial roofing services are a necessary piece to ensure your roof can have a long, successful life. If you believe you have a roof in need in Wayland, MI or the surrounding areas, Empire Contractors can bring you the peace of mind you deserve. We're proud to have been serving our community for more than two decades and we are sure that any roofing professional from our crew that comes out to assist with your roofing needs, will do so appropriately. We live in a beautiful area, but our weather and climate can be a little troublesome for our roofs, don't wonder if yours is ready to keep things protected, reach out to Empire Contractors today and know your roof is once again in prime condition! We're here to help, call today at (231) 861 – 7221.
Complete Protection
When you put your commercial roof in our hands, you can be sure our crew will get your roof the specialized care it requires. There are quite a few options when it comes to commercial roofing systems and at Empire Contractors, we're trained in all of them so we can be confident we're bringing you the best. Our list of roofing services includes:
Roof inspections
Roof estimates
Roof maintenance plans
Leak detection
Roof repairs
Roof restorations
Roof replacements
New roof installations
Claims assistance
And more!
Don't wonder if the team you hire can handle all your roofing needs, know you're working with a team of professionals that can be your one-stop shop when you have a roof in need. Have your roof inspected and know it's ready for the coming winter here in Michigan!
Call Today
When you need commercial roofing services completed on your property in the Wayland, MI area, Empire Contractors is the full-service roofing company to call on. We bring you trusted, quality roofing services and products and we'll work to make sure you have a roof you can count on during any season. Give us a call today at (231) 861 – 7221 and know your roof is ready.