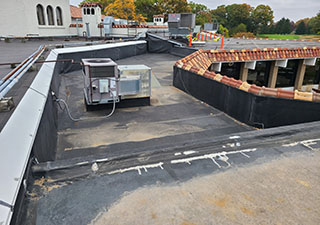 When it comes to commercial roofing companies in the Rockford, MI area, Empire Contractors has been doing things right for two decades and we're honored to be the team your neighboring business owners and property managers continue to trust their roofs to. With an extensive list of budget friendly and dependable commercial roofing services, we're sure we've got what your roof needs to succeed long into the future! Our roofers are trained in all types of commercial roofing systems and we'll make sure you have one you can trust in all season long. Give us a call today at (231) 861 – 7221 and know you're working with the finest roofing professionals in Michigan!
Full-Service
At Empire Contractors, we've been perfecting our craftsmanship for more than twenty years and we bring the necessary experience and knowledge to every roof we work on. Here in Michigan, we know our state is beautiful and most of the time, so is our weather! But we do see some pretty intense storms during each season that can really test our roofs, don't let yourself stress over having a roof you can trust in, know it's always ready to keep things protected when you put it in our hands.
As a full-service roofing company serving the state of Michigan, we bring you custom tailored roofing services and solutions that will help yours succeed soundly in our climate. Our list of roofing services includes:
Roof inspections
Roof estimates
Roof maintenance plans
Leak detection
Roof repairs
Roof restorations
Roof replacements
New roof installations
Claims assistance
And more!
Don't let a lackluster roofing company cause devastation to your building's roof, call Empire Contractors for all your commercial roofing needs, big or small, and know you'll always have a roof set up for long term success! We're here to help and with winter right around the corner, don't wait, call our office today at (231) 861 – 7221.
Reach Out Today
Commercial roofing companies are all over Michigan, so how do you know your getting an honest and trusted company working for you? It pays to do a little research and at Empire Contractors, we've got more than references! Reach out today for quality in every way in Rockford, MI, call us at (231) 861 – 7221.