Looking to get commercial roofing services from a roofing team that you can always depend on? If you are in Plainwell, MI, Empire Contractors is the only roofing company that you need to know about. To get some more information about what we do, just call us today at (231) 578-4760.
Complete Commercial Roofing Services
Roof Inspections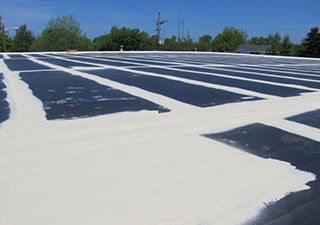 The experts at Empire Contractors have been inspecting commercial roofs for a long time! We always sort out what is needed so that people can make the most out of their roofs! Our thorough roof inspections help our clients spend less money on their roofs!
Repairs & Maintenance
With Empire Contractors, the best decision will always be made for your roof. We know when to repair, and when it's better to restore or replace a commercial roof. We are able to get roofs to last many years longer through effective roof repairs and custom roof maintenance!
Roof Coatings

One of the most effective ways to make the most out of your commercial roof is with roof coatings! These lightweight membranes can be applied to a commercial roof multiple times over the course of its lifespan because they are extremely lightweight. With Empire Contractors applying your new roof coating, your roof will be strong, and your building will be more energy efficient!
Roof Replacements
If you feel that your commercial building could need a roof replacement, Empire Contractors is the company that you can trust for an expert roof replacement! Our licensed and insured professionals can replace all sorts of commercial roofs. We do so at great prices and within reasonable timeframes!
Why Empire?
There may be many roofing companies in the state of Michigan, but few have a track record like the one that Empire Contractors has. We impress our clients with fair prices and excellent customer support! Just reach out today and our team will be on the job quickly to get your roof what it needs!
Call Us Today!
Empire Contractors sweetens the deal for the people for Plainwell, MI with high-quality commercial roofing services at very reasonable prices. Call (231) 578-4760 to get the ball rolling on a new roof inspection. We're ready to learn some more about your project and will give you an estimate on the needed service!