Located in Charlevoix, MI, the team at Empire Contractors has built a stellar reputation by providing unparalleled and excellent commercial roofing services to building owners in the region. Our expertise, state-of-the-art technology, and commitment to delivering the highest quality service make us a go-to choice for property owners across the area. You can count on our professional team for any roofing needs you may have. Call us today at 231-861-7221, and let us begin helping you!
Our Services
Maintaining your roof in optimal condition can be a complicated and daunting task. However, with our team's help, you have a reliable partner to shoulder this responsibility. Our spectrum of services encompasses everything from routine maintenance and thorough inspections to comprehensive roof replacements. We're here to ensure the longevity and performance of your commercial roof.
The weather in our state can often prove to be challenging, threatening even the most resilient roofing systems. This is why we offer uncompromising quality, thanks to our top-notch materials and workmanship. Our expert team is proficient in dealing with a variety of roofing systems, ensuring that your roof remains sturdy and dependable, regardless of the weather conditions.
How We Can Help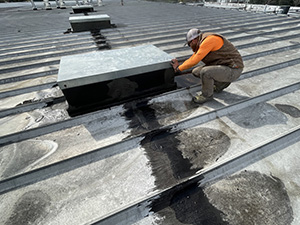 What sets our crew apart from our competition is our tailored approach to every single project. We recognize that each building is unique and has its own needs. This understanding drives us to mold our services to your specific situation, taking into consideration your building type, budget, and local climate.
However, our commitment doesn't stop at delivering superior services to our clients. We're equally dedicated to protecting the environment. Our team follows eco-friendly practices and strives to use sustainable materials whenever possible. In addition, we are continually educating ourselves, staying up-to-date with the latest industry trends, innovations, and techniques to serve you better.
Contact Us
Empire Contractors in Charlevoix, MI, is your top choice for premier commercial roofing services. We take immense pride in our high quality of service, customized solutions, and our commitment to sustainability. Our objective is to earn your trust and create a long-lasting partnership by consistently providing dependable solutions. No matter what problem you may have, call us today at 231-861-7221. Our crew has the skills and knowledge you are looking for! We're dedicated to ensuring your roof remains sturdy, protecting you and your building for years to come.