As a commercial building owner, you are constantly evolving to meet the demands of a fast-paced world. You juggle countless decisions, from operational changes to structural improvements. One crucial aspect that often goes overlooked, though, is the roof on your building. When looking for commercial roofing companies to help you, the team at Empire Contractors in Petoskey, MI, stands out. We have the skills and experience you need. Call us today at 231-861-7221 to get started!
Complexity of Commercial Roofing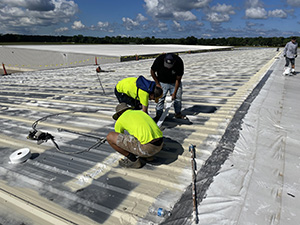 Unlike residential roofs, commercial roofing systems are much more complex. They come in various types, such as flat roofs and pitched ones, and the choice of material can differ substantially, whether it's TPO, EPDM, or metal roofing. Working with a professional contractor can help you understand these complexities, ensuring you receive tailored advice that aligns with your specific needs.
Avoiding Costly Mistakes
It's not unusual for building owners to opt for a roofing solution based on initial costs alone. However, without expert advice, this approach can lead to expensive errors in the long term. For instance, a particular roofing material might have a lower upfront cost but require more maintenance over its lifespan. A professional consultation ensures you're making an informed decision that considers both the present and future financial implications.
Leveraging Latest Trends & Technologies
The roofing industry is constantly changing. New materials, techniques, and technologies emerge, promising longer lifespans, enhanced energy efficiency, and even aesthetic upgrades. Through a professional consultation, you can harness the latest trends, ensuring your next roofing choice is both practical and innovative.
Safety & Compliance

Commercial buildings have to adhere to strict safety codes and standards. Without adequate knowledge, building owners might inadvertently choose a roofing system that's non-compliant. Partnering with professionals helps ensure that your chosen system meets all local and national safety standards, protecting you from potential legal repercussions.
Personalized Approach
Every building and roof are unique. Therefore, a professional consultation goes beyond general advice. It's a deep dive into your specific needs , challenges, and goals. We pride ourselves on this personalized touch, ensuring each recommendation we make is in perfect alignment with your goals.
Contact Us
While it might seem tempting to rely on internet research or base decisions on cost alone, working with a professional is invaluable. This will allow you to make wise and informed choices. If you're considering a commercial roofing project in Petoskey, MI, don't hesitate to reach out to Empire Contractors! Our team of experts is here to guide you every step of the way. Call us now at 231-861-7221 to get started!