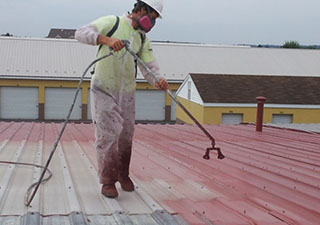 Looking for a professional commercial roofing contractor you can trust to prep your roof appropriately for the coming winter? Call the team of trained professionals at Empire Contractors for all your commercial roofing needs and you'll be able to have the peace of mind you deserve knowing your roof is ready for the snow and cold! With the everchanging temperatures we see here in Wyoming, MI our roofs can crack leaving areas exposed and vulnerable. With Empire Contractors working on your roof, you can be sure we'll get your roof taken care of with only the finest products around. Our roof coatings, also known as roof restorations, are a great way to keep your roof in prime shape all year long. With unmatched flexibility, these can expand and contract meaning cracks aren't a concern! Know you and your roof are in great hands, reach out today at (231) 861 – 7221.
Why Empire?

At Empire Contractors, we've been delivering quality in every way to the people in Northern and Western Michigan for more than two decades and we know what it takes to keep the roofs in our area in pristine condition. It will always be our goal to help you get the most from your roof and with something that was designed to last for decades, why wouldn't it be? We offer long-lasting services and solutions at fair prices because we believe it shouldn't break the bank to keep your building protected. With our team working for you, you and your roof will be a priority from the moment you call on us. We're always here to help and we look forward to making you a part of the Empire family!
Call Today
Don't leave yourself wondering if you have a reliable roof atop your building, know it's always ready to keep things protected with confidence. Call Empire Contractors today at (231) 861 – 7221 to work with the leading commercial roofing contractor in Wyoming, MI and the surrounding areas. As a full-service roofing contractor, we handle all roofs and jobs with ease, and we'll make sure you can trust in your roof anytime of year.