Whatever the reason you're in need of a new commercial roofing contractor in Wayland, MI or the surrounding areas, Empire Contractors is the trusted team to call on. With more than twenty years of experience, we're grateful to be the full-service roofing company to rely on and our team is ready to help you get a long, successful life from your commercial roof. It was designed to last for decades, why settle for less? Empire Contractors is always at the ready to help and with winter right around the corner, why wait? Know you have a roof that's ready for the coming season, call Empire Contractors today at (231) 861 – 7221.
Trust the Professionals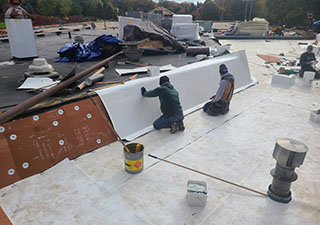 Whenever your commercial roof is due for service or repair, it will pay off greatly if you ensure you're hiring a team of trusted professionals. Even a simple repair that's handled improperly can lead to a failing roof sooner than necessary and this can be devastating for your roof and your budget. At Empire Contractors, we work to keep your roof in peak performing condition while keeping your roofing costs consistent. Knowing who to call when you need roofing services doesn't have to be a stressor when you have the number for the professionals at Empire Contractors!
When you put your roof in our hands, you'll feel the difference with our true professionals from the moment you call. As a family owned and operated operation since our inception more than two decades ago, we know the importance of treating our customers with personalized and professional customer service. We bring you trusted solutions and services and our crew will continue to complete every job with your best interests leading the way. Work with the trusted team of professionals your neighbors rely on in Michigan, Empire Contractors is always ready to help!
Reach Out Today
Hiring an inexperienced commercial roofing contractor can be detrimental to the success of your roof, don't waste your time and money working with a company you can't rely on, call Empire Contractors today and know you're in the finest hands around Wayland, MI. Reach out to us today at (231) 861 – 7221.