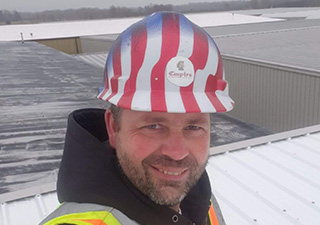 With plenty of commercial roofing contractors having varying expertise to choose from in Traverse City, MI, finding a renowned and trusted commercial roofing company, such as Empire Contractors is really a blessing. Now, we don't expect you to trust us straight away; do your research and once you've gone through the alternatives, you'll know that Empire Contractor is your topmost go-to option for all your commercial roofing needs. With unparalleled workmanship and customer care, we proudly claim that our roofing contractors are capable enough to handle any sort of roofing issue in the finest possible way. Call us today at (231) 578-4760 for more details.
Roof Inspections and Maintenance
A commercial roof is a hefty investment on your part. Therefore, it needs to be properly inspected and maintained over time. That's where the highly customized roof inspection and roof maintenance programs offered by Empire Contractors come into play. If you choose to subscribe to these programs, you can breathe easy knowing that your commercial roof is getting the individualized attention it deserves!
Top-Notch Roof Restoration
In Traverse City, MI, you will come across assorted commercial roofing contractors who, upon hearing your roofing woes, will recommend a complete roof replacement right away. A roof replacement is an extensive task that is as costly as it is time-consuming. The seasoned professionals at Empire Contractors, on the other hand, believe that most of the roofing issues can be resolved through restoration projects like roof coatings, which saves both your time and money. They only suggest a roof replacement when there is no other choice and make sure that whatever the case, they carry out a top-quality and tidy job.
Why Choose Us?
With a crew of skilled roofing craftsmen at our disposal, all our commercial roofing services are nothing short of perfect. Our licensed roofing specialists understand that communication between the contractors and the client is an essential part of any roofing project. Ergo, they keep you up-to-date with all the proceedings of your commercial roofing project and make sure that everything goes according to your wishes!
Call Us Today!
Looking to hire the most trusted and reliable commercial roofing contractor in Traverse City, MI? Look no further than Empire Contractors. Reach out to us at (231) 578-4760 and schedule a roof check-up from our team today!