Getting in touch with an experienced commercial roofing contractor can make maintaining your commercial roof a lot easier. Empire Contractors has one of the best reputations in Manistee, MI. If you are ready for a free estimate on your roof from experienced commercial roofing experts, call our team today at (231) 578-4760.
First Class Customer Service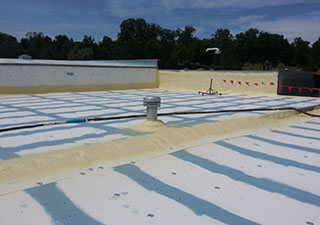 Regardless of the industry, customer service is important. Our craftsmanship is top quality, but we also put a strong focus on providing quality customer service. This leads to a smooth process from beginning to end. We'll be happy to let you know what we recommend, and you can rely on us for punctual and high-quality commercial roofing services.
Our Services
We're a commercial roofing company that never likes to say no to our clients. Since we offer all kinds of commercial roofing services, you can always trust that our team will be prepared to help. Our services range from small roof repairs to complete roof replacements. We also provide roof coatings and other kinds of cost-effective roofing solutions that can help improve the energy-efficiency of your commercial building!
Custom Roofing Solutions

With so many different roof types, climates, slopes, etc., there is no one-size-fits-all approach to roofing. Instead, each roof needs to be analyzed so that it can have custom roofing solutions that cater to its unique needs. Empire Contractors personalizes roofing services to better help the people of Michigan!
Why Empire Contractors?
The team at Empire Contractors wants to continue to raise the standard for other commercial roofing companies in the state of Michigan. We accomplish this by making sure we are exceptional in each major category. This includes craftsmanship, customer support, and prices. We are also fully compliant with industry safety standards and all our roofers are licensed and insured.
Call Us Today!
The team at Empire Contractors looks forward to helping new clients in Manistee, MI save time and money on their commercial roofs. Our seasoned roofers have years of experience working on many different types of commercial roofs. No matter what type of commercial roofing service your roof is in need of, we are ready to help. Just call us at (231) 578-4760 to get started!