Empire Contractors is a commercial roofing company with decades of industry experience. We specialize in commercial roofing and are taking on new single-ply roofing projects in Manistee, MI. For a free estimate on your roof or to find out more about our services, call our team today at (231) 578-4760.
About Single-Ply Roofing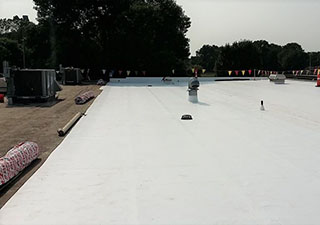 There are a lot of great attributes associated with single-ply roofing. These systems are known for being low-maintenance, durable, and cost-effective. Single-ply roofing is used on flat or low slope roofs. There are different kinds of single-ply roofing, including popular roofs like TPO, PVC, and EPDM.
Single-ply roofing does a great job of covering roofs with very few seams. It's flexible and can be suited to uneven roof surfaces. Hiring the experienced commercial roofers at Empire Contractors will ensure that the job gets done the right way! Single-ply roofing systems are also known for helping buildings be more energy-efficient!
Roof Coatings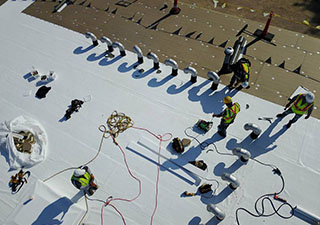 If your commercial building already has a single-ply roofing system, you may be interested in services that will help it last longer. Roof coatings are often used to restore the condition of single-ply roofing systems. The team at Empire Contractors has been restoring commercial roofs for a long time. You can count on us for seamless and effective roof coatings!
More About Empire Contractors
Being a great commercial roofing contractor takes more than experience. It takes an entire team of dedicated roofing specialists who are motivated to provide clients with the best commercial roofing services. That's the kind of team that we have here at Empire Contractors. We offer an array of commercial roofing services and always provide quality work at great prices.
Call Us Today!
When you are ready to receive assistance from first class roofing specialists, call our team today at (231) 578-4760. Empire Contractors works hard to get out to clients quickly so that roof issues can be resolved before they get any worse. Our team is familiar with all types of single-ply roofing. Our qualified roofers are prepared to take on new commercial roofing projects in Manistee, MI!