Do you have a property in Whitehall, MI and need commercial roofing services? If so, the team at Empire Contractors has you covered. We'd like to show you how we're different from all the other commercial roofing companies out there! We've been in the area for the last 20 years and have a proven track record and safety record. Our team is ready to be your go-to contractor that you rely on for decades to come. So no matter your current need, please give us a call at 231-861-7221 and allow us the opportunity to show you the Empire difference.
Full-Service Contractor
While others may claim they are full service, our team truly does it all. We've been perfecting our craft over the last twenty years and continue to learn more about the latest trends in the industry. Some roofing solutions are now becoming obsolete, while others are becoming the new trend, including some amazing eco-friendly options! Our goal is to continue to provide our clients with services that they can trust, and solutions that are going to stand the test of time.
We've earned our reputation in the industry due to our quality craftmanship, superior customer service, and long-lasting roofing solutions. A few of the services we provide our clients include: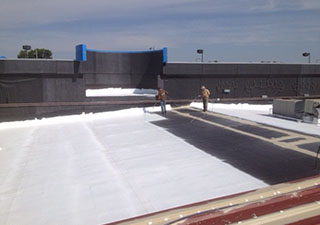 Roof Inspections and Maintenance
Leak Detection and Repairs
Roof Coatings (Roof Restorations)
Roof Replacements
Insurance Claims Assistance
And more!
Each one of our technicians are fully vetted before they are added to our team, and they are all thoroughly trained and continue their ongoing trainings on new products. We want to continue to uphold our expert craftmanship that our company is known for.
Call Today For an Estimate
Our dedication to quality is something you don't see every day with other commercial roofing companies. That is why our team stands out from the crowd, among many other things. If your Whitehall, MI has been in need of a professional hand, we'd be happy to help. Just call our office at 231-861-7221 and we'll send someone over at a time that is convenient for you.