When you're searching for a reliable commercial roofing contractor for your North Muskegon, MI property, what qualities are you looking for? Having the correct contractor on the job can make or break the project. When you look over your list of desirable traits, you should be looking for the following things: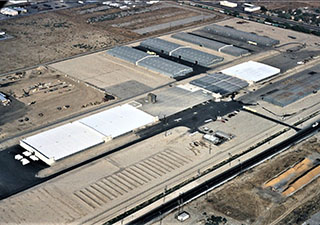 Established, trusted reputation in local industry
Properly trained technicians
Licensed and insured
Customized roofing solutions
Multiple warranty options
One thing you might be missing at the top of your list is checking the company's safety record! When you're ready to work with a commercial roofing contractor who has it all, give our team a call. You can reach us at 231-861-7221.
Keeping Safety a Priority

The safety of your employees is something you don't take lightly, and that is the same for our team. We want to ensure that our employees are safe as well as yours. That is why at Empire Contractors, we create a trusted safety plan for each project, no matter how large or small. When you put your roof into our hands, our crew will ensure that OSHA safety requirements are always followed so everyone can make it home to their families safely each night.
When Empire Contractors is on the job, you might notice the following safety requirements:
Personal protective equipment

Hard hats
Safety glasses
Steel toed boots
And more

Fall protection equipment

Anchors
Body harness
Connecting devices

Perimeter Defenders

Cones
Safety Flags
Gard systems
Protecting our workers and your staff/tenants from hazards is our responsibility. It is not something that we take lightly. When you hire our team to perform working projects at your facility, we have a moral obligation to keep everyone safe with the proper safety procedures.
Never Worry When Empire is on the Job
We would like to offer you our professional roofing services for your North Muskegon, MI property. We will take any stress out of your hands and keep your mind at ease as we handle your roofing project with superior craftmanship and safety at the forefront.
Just give us a ring at 231-861-7221 to work with the commercial roofing contractor that you can count on.