There are many commercial roofing companies that offer services in the state of Michigan. However, how do you choose the right one for your building? Empire Contractors should be your first choice for roofing services in Dowagiac, MI, and the surrounding areas. Call us today at (231) 861-7221 for more information!
Reputation
Knowing a company's reputation is vital when looking for a contractor to handle your roofing job. After all, your building's roof is a valuable asset; you want the best in the business taking care of it!
Choosing a sub-par contractor for your job will cost you more time and money in the future. Our skilled crew strives to complete each task correctly the first time. Come see the difference for yourself!
The Services
Another factor to consider when selecting the right contractor is the services they offer. If it is not a full-service company, then you may end up hiring several different ones to fully take care of your roof. This not only creates unnecessary stress, but it can also be quite difficult to manage. Hiring a full-service company for all your roofing needs streamlines the process and reduces your workload.
The Craftsmen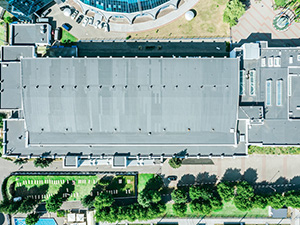 If a roofing company does not hire qualified craftsmen, then you may have to settle for sub-standard results. This could mean failed repairs or damage to your roof.
It is crucial to work with high-quality technicians. All our craftsmen are experienced, professional, certified, and trained. This helps maintain your roof's integrity, while also giving you peace of mind.
Call Us Today
Once you have researched the commercial roofing companies in the area, you will come to the conclusion that Empire Contractors is the choice for you! We offer many different services for you to choose from. Contact our customer care team, and we'll help you determine the best steps to keep your roof in top condition. Our goal is for our clients' roofs to last for many years to come.
If your building is in Dowagiac, MI, or the surrounding areas, contact Empire Contractors! Call us today at (231) 861-7221, and we will be happy to answer any questions you may have. We look forward to partnering with you.