Running your business is stressful and time-consuming. The last thing you need is to worry about your commercial roof's maintenance. Trust Empire Contractors to maintain your roof! We provide commercial roofing services to business owners all over the state. If your commercial building is in or around Dowagiac, MI, call us today at (231) 861-7221 to learn more.
Our Services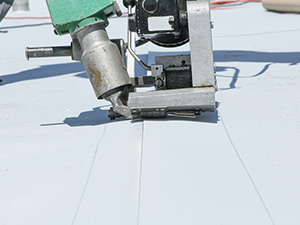 We provide a wide range of services tailored to your needs.
Inspection: This is one of our most common services. Regular inspections allow us to know exactly what your roof needs.
Repairs: We also provide repairs for your commercial roof. If it has been damaged for any reason, we can address it quickly and prevent further damage.
Restoration: Another service we provide is restorations. This service revitalizes your current roof, extending its lifespan.
Leak detection: Our leak detection services are very popular among business owners. Our experts find the location of your leaks and perform the necessary repairs.
Maintenance: We provide customizable maintenance programs to protect your roof throughout the year.
Insurance assistance: We guide our clients through the process of filing a claim with their insurance company.
Replacement: The last service we provide is roof replacements. Our crew will remove your old roof and install a new one that will last for many years to come.
About Our Company

Empire Contractors has been serving our customers for 25 years. We look forward to continuing to help our clients! We are a family-owned and operated company, and we prioritize honesty and integrity. All of this is thanks to our professional, experienced, trained, and certified craftsmen.
During all our interactions with our clients, we aim to keep them informed of the products we are using and how we are solving their problems. We value transparency and honesty.
We never pressure you to buy a service or upgrade to a more expensive product. We want you to feel comfortable and respected. Every service we provide will be tailored to your roof!
Contact Us
Whether you are looking for a one-time service or a long-term partnership with a roofing company, contact Empire Contractors today to learn more. With our wide range of commercial roofing services, your building in Dowagiac, MI, will be protected by the best company in the area. Contact us today at (231) 861-7221. We look forward to partnering with you!