Finding the right team to take care of your flat roof is important. The team at Empire Contractors will have your flat roof well protected. For a flat roof repair, get in touch with our experts today at (231) 578-4760. We're the number one option for roofing companies in Hastings, MI!
Finding Flat Roof Leaks

The roofing specialists at Empire Contractors have an exceptional flat roof background. These kinds of roofs are nothing new to us and we certainly have shown our ability to solve both common and uncommon flat roof problems. If you are here for a flat roof repair, rest assured that our roofers are experts in roof leak detection.
After we've determined the source of your flat roof leak, our team will sort out a long term solution. As a full-service roofing company, there are no limitations when it comes to the solutions that we offer. This means your commercial roof will always receive what it most needs, which can include repairs, roof coatings, and roof replacements.
Roof Coatings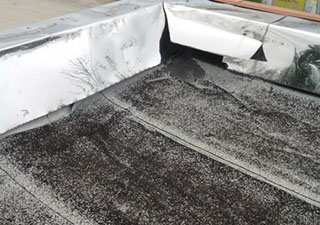 There are many kinds of flat roofs that are commonly used in the United States. Many of these roofs can be greatly improved with a new roof coating. Empire Contractors has a history of extending the lifespan of flat roofs with new roof coatings. This solution can help cut down the costs of maintaining a roof, and it will also improve a building's energy efficiency.
Fast & Effective Services
If you have a roof with a leak or another kind of problem, it's always in your best interest to have the issue fixed up as soon as possible. With Empire Contractors, your roof will receive help shortly after you call! We don't rush through projects, but we do get out to people quickly to start getting their roofs the help they need!
Call Us Today!
Any time a roof has a problem, it is always in a person's best interest to get the issue resolved as soon as possible. Empire Contractors is a roofing company that takes the pressure off the people of Hastings, MI with fast and high-quality roofing services! If your building needs a flat roof repair, call us at (231) 578-4760.