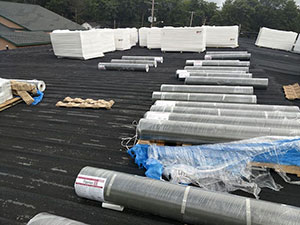 Unlike most other types of roofing systems, single-ply roofing can be a bit complex to understand. Therefore, only a professional roofing contractor knows how its mechanism works and the correct way to work on it. Thankfully for you, as a commercial building owner in Wyoming, MI, that has a single-ply roof, you can put your trust in our seasoned roofers at Empire Contractors for all your roofing needs. Our craftsmen have more than two decades of expertise in taking on all sorts of single-ply roofing problems. It will be a pleasure for us to service your commercial roof. Reach out to us today at (231) 861-7221 to gather more information!
The Right Type of Single-Ply Roof for You
When it comes to a single-ply roofing system, you have three different options to choose from: PVC, TPO, and EPDM. It is entirely your personal choice which you end up having placed on your commercial roof. To help you understand the differences between EPDM and TPO, if you would like a low-budget roof that covers large surface areas with fewer seams, choose EPDM. In contrast, for something stronger against pollutants, you would want to choose PVC. Finally, the TPO roof has many facets that make it a viable choice.
Our detail-oriented service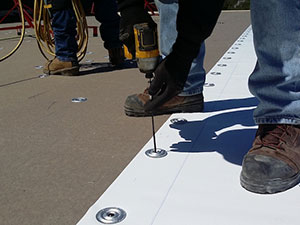 Regarding a single-ply roof, our expert craftsmen at Empire Contractors have all the services you need for your commercial single-ply roof, including roof maintenance, repairs, replacement, coating, and more. When it comes to fixing a single-ply roof, a roof coating is a great choice because it works well with this type of roof.
Our Outstanding Roofing Materials
Besides our top-notch workmanship, our seasoned roofers at Empire Contractors utilize only premium roofing materials for each of our single-ply roofing tasks. The reason is that we want to achieve 100% customer satisfaction in every service we provide, and that is possible only when every aspect of the roofing task has been handled flawlessly!
Please Contact Us!
When your single-ply roof needs to be repaired or have a coating placed on it in Wyoming, MI, contact our proficient team of roofers at Empire Contractors today at (231) 861-7221. We will take your roof back to its prime days in no time!