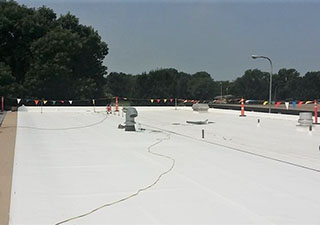 Single-ply roofing systems are an incredibly reliable commercial roofing option, but they are also ones that require specific care to ensure their long-term success. At Empire Contractors, as a full-service commercial roofing company, every roofer on our team is professionally trained in the various single-ply roofing systems as well as the many other commercial roofing systems. We knew when we started our company more than twenty years ago, that we wanted to bring our customers roofing services they could count on and we're proud to say we've done just that and much more! For building owners and property managers in Wayland, MI, we bring you the peace of mind you deserve knowing your roof is always getting the specialized care it requires. You trust all your other investments to the professionals, why should your roof be any different? Get the most from your commercial roof in Wayland, reach out to our team today at (231) 861 – 7221.
Energy Efficient

The three main types of single-ply roofing systems are EPDM, or rubber, TPO, and PVC. All three of these options are well known for helping improve the energy efficiency of the buildings they cover and when installed and maintained properly, they're all options that can keep your building protected for decades. Who doesn't love getting a great return on their investment? Single-ply roofing systems are all great candidates for roof coatings, also known as roof restorations, and this means that even when your roof may seem likes it's aging, a roof restoration could add years extra to its lifespan! At Empire Contractors, we're proud to bring you budget friendly roofing services as well as trusted roofing products that can help to lower your utility costs and hassle over the years! Put your roof in our hands and know we're here to help!
Call Today
Don't let your single-ply roofing system fail sooner than necessary, make sure you're calling the right team of professionals that will handle it perfectly. With quality products and services, your roof will be destined for success after we've done the work it needs. For quality in Wayland, MI, give us a call today at (231) 861 – 7221.