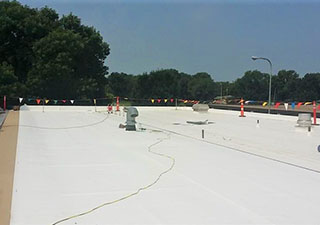 As a building owner or property manager, we know you are dealing with a lot on your plate and our team of experts will make sure your commercial roof is something you won't have to stress about. With Empire Contractors dealing with the needs of your commercial roof, you can be sure that your building will be properly protected. As a full service commercial roofing company that serves the South Haven, MI area, we believe it is our job to be a one-stop shop for all your commercial roofing needs. It doesn't matter how big or small your building or roof is, and it doesn't matter what type of roofing system you have protecting everything. Our highly intelligent commercial roofing contractors will be sure your roof receives the care it deserves. From the multiple types of single-ply roofing like rubber, PVC and more, to metal roofs and any other commercial roofing system, our team brings the skills and resources necessary to handle each type of roof. You can contact us at (231)-961-7221 and we will make sure you can trust your commercial roof.
New, Old, Our Team Does It All
It doesn't matter if your current roof is needing repairs or if you need a new roof installed on your building, we have a team that can do anything for you. From tiny repairs to full scale roof replacements and installations, we are familiar with everything commercial roofing and we will work very hard to help your roof get what it needs. Our long list of commercial roofing services is available for any type of commercial roof. That list is:
Roof evaluations
Roof estimates
Leak detection
Roof repairs
Roof restorations
Roof coatings
Roof installations
Roof replacements
And much more
Let the team at Empire Contractors deal with your commercial roofing problems and give yourself one less thing to stress about.
Contact Us Today
When you contact our team you won't have to worry about your roof leaking. This is because we know you shouldn't have to worry about anything going on with your roof. If you're located in South Haven, MI, contact our team today at (231)-861-7221 and let our team help you out.