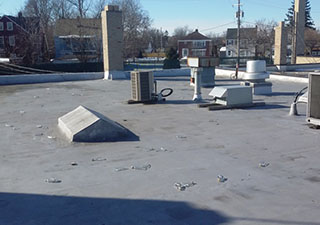 Are starting to see leaks in your roof once heavy rainfall rolls around? Possibly you are also starting to see water ponding onto your roof a couple day after it has rained. If so, you should call the flat roof repair experts at Empire Contractors. You can contact us at (231)-861-7221 and have our team help your Kent City, MI roof. We provide free estimates, so if you would like one feel free to ask for one especially if you are seeing signs of worry. Our team of skilled roofing professionals will evaluate your flat roof and they will find our what the best plan of attack is from that point.
Why You Should Repair Quickly
If you have seen a couple discolored spots on your roof, or any other worrisome signs including cracking in the membrane, pooling water, or ponding water, it is a good idea to call a commercial roofing company like Empire Contractors as quick as possible. You might be thinking a small leak isn't going to cause much damage, but you would be wrong. Any part of your roof that will let water move around can cause tons of damage to your building's structural integrity, even if it isn't visible to the naked eye. When leaks are allowed to evolve a lengthy repair process, or a replacement may be needed. Thus, we urge all property managers and building owners in Kent City, MI to call our team as soon as you can.
Regular Issues With Flat Roofs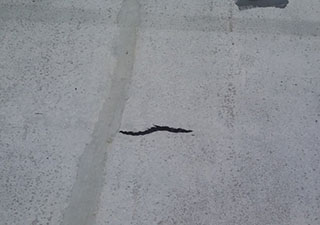 If you are pondering whether you should have an expert look at your roof, we have a list of a couple things you need to keep an eye on. That list is:
Leaking that won't go away
Punctures, cracking, blistering
Your roofs membrane is lifted at its seams
Pooling water: water that is stuck under your roofs membrane
Ponding water: water that is staying on your roofs surface after 48 of no rainfall
If you are noticing any of the troublesome signs listed above, you should think about reaching out to the team at Empire Contractors at (231)-861-7221 and let them help you out for all your roofing needs in Kent City, MI.