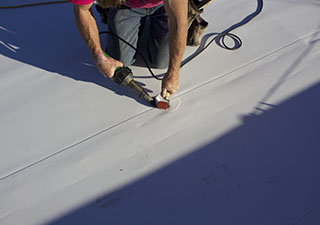 We have seen time and time again, the reasons that commercial and industrial building owners are continually choosing to use single-ply roofing options. They are affordable and durable making them a fantastic choice for those that don't want to stress over your roof, and let's be honest, who does! Whether you currently have a single-ply roof, or you are looking to replace an old roof with a single-ply roof, the team at Empire Contractors is ready to help. Call us today at (231) 861 – 7221 for any single-ply roofing need you have in the Kalamazoo, MI area.
Empire Contractors has been in the roofing industry for over 20 years and we have seen the fantastic performance that single-ply roof options have to offer. We have vast experience working on the different types, so whether you have a PVC, TPO, or EPDM (rubber) single-ply roof, we've got you covered. If you are looking to switch to one of these options, reach out to us today and we will happily go over all of your options and help you decide which one is best for you and your building.
Any Choice Is A Good Choice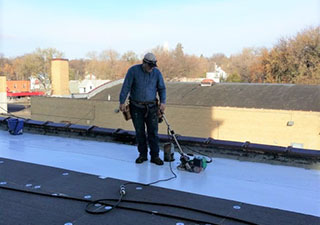 Really, when you are choosing to go with a single-ply roof for your commercial or industrial building, you cannot go wrong with any of your options. They all have great benefits, choosing the right one for your building just depends on what you are looking to get out of it and what your budget is. We are ready to give you the information you need to make the right choice for you.
PVC or Polyvinyl Chloride is considered the best of the best when it comes to single-ply roofing, it is very similar to TPO, but it is built to stand up better to chemicals and other harsh elements. TPO or Thermoplastic Polyolefin is a single layer of synthetic material and is reinforced with a fabric scrim. TPO roofs are naturally white so this a fantastic option if you are looking to make your building more energy efficient. EPDM or Ethlylene Propylene Diene Monomer, also known as rubber roofing, these are your basic rubber roofs and are naturally dark, but with a light roof coating can be energy efficient as well.
Call Us Today!
For any single-ply roofing need in Kalamazoo, MI and the surrounding areas, you can give the team at Empire Contractors a call today at (231) 861 – 7221. We are here to help you no matter what your roofing needs are, we do small repairs, restorations, replacements, and more! Reach out to us today for more information!