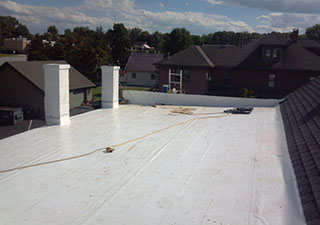 Looking for a strong single-ply roofing system for your commercial or industrial building? If you're located in or near Grand Rapids, Michigan, look no further than Empire Contractors. For more than 2 decades, we've been supplying building owners and property managers throughout Michigan with superior single-ply roofing membranes from a variety of time-tested manufacturers. Call us today at (231) 861-7221 to learn more or read on.
Mule-Hide Single-Ply Roofing Products

Empire Contractors offers single-ply roofing membranes from Mule-Hide, a trusted name in roofing since 1906. Regardless of project size, MHP commercial roofing systems can handle it – from fully adhered EPDM (rubber) systems to TPO and heat-welded PVC membranes, MHP has a solution for every low-slope roof challenge: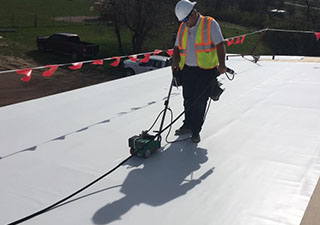 1) Mule-Hide EPDM
Mule-Hide EPDM is a great lightweight, flexible yet strong, single-ply membrane. It's ideal for long-term waterproofing on new construction or retrofits. Mule-Hide's rubber roof systems are highly resistant to ozone and UV and can handle the hottest summers and coldest winters Michigan can throw at them.
Can be fully adhered, mechanically attached, or ballasted, and comes in 3 options:
Standard black
Reinforced with polyester for superior durability
White-on-black for superior reflectivity and energy savings
2) Mule-Hide TPO
Mule-Hide TPO is easy to install, saving you time and money. It's white surface naturally reflects up to 78% of the sun's rays, reducing utility costs and heat buildup. It's resistant to fire, ultraviolet light, and pollutants.
Like EPDM, Mule-Hide TPO can be fully adhered, mechanically attached, or ballasted, and it comes in 8-, 10-, and 12-foot-wide rolls.
3) Mule-Hide PVC
One appeal of Mule-Hide's PVC single-ply roofing system is its ability to install quickly in one pass with a small, trained crew. Like TPO, PVC is highly reflective. Mule-Hide PVC is also flexible and lightweight yet strong. It stands up to repeated exposure to severe weather, high winds, building movement, and routine rooftop traffic. It can be fully adhered or mechanically attached.
Firestone Single-Ply Roofing Products

Empire Contractors also provides single-ply EPDM and TPO roofing systems manufactured by Firestone, a provider of innovative products with outstanding warranty coverage:
1) Firestone RubberGard EPDM
Since its introduction in 1980, Firestone's RubberGard EPDM system has dominated the single-ply roofing market through its proven performance, durability and flexibility over a wide range of building types.
Benefits include:
Energy savings (up to 25%)
Lightweight design (less than .5 lbs per square foot)
Long lasting (50+ years)
2) UltraPly TPO
Firestone UltraPly TPO roofing membrane is a sustainable roofing solution for a wide range of building types. Firestone's TPO single-ply roofing membranes provide exceptional resistance to ultraviolet, ozone, and chemical exposure. ENERGY STAR rated. Comes in several colors, widths, and thicknesses:
White, tan, or gray.
8-, 10-, and 12-foot widths
45-, 60-, and 80-mil thicknesses
Conklin Roofing Single-Ply Products

The third and final roofing manufacture Empire Contractors sources our premium single ply systems from is Conklin, a leader in roofing products since 1977. Conklin produces two single-ply systems: Flexion and HyCrown:
1) Flexion
Conklin's Flexion is a reinforced PVC single-ply membrane that provides a tough but flexible barrier against the elements. It comes in thicknesses of 50- and 60-mil. It is naturally fire resistant, easy to maintain, and lasts a long time.
2) HyCrown
Conklin's HyCrown single-ply membrane is extra-tough because it is manufactured with Chlorosulfonated Polyethylene (CSPE), a synthetic rubber noted for its resistance to chemicals, temperature extremes, and ultraviolet light. HyCrown delivers solid, long-term protection from a number of pollutants that can attack the surface of a roof.
Call Empire Contractors For Superior Single-Ply Products!

Whether you're replacing an existing roof or building a new roof, using the correct materials for your building is critical. Using high-quality materials will determine how long your roof will last and how well it will perform. Get the best with Empire Contractors. Call today at (231) 861-7221.