Do you ever wonder why some companies see to be seamless in their service?  You call about the product or service and they get right back with you. The sales rep or technician shows up quickly or on time.  The shipping agent they used delivered when you expected.
I'm sorry to say, but that doesn't happen by accident.  What you see on the surface of a successful brand is the result of much planning and learning from mistakes.  One of the best ways to do this is to choose the right companies to partner with. Vendors, subcontractors, volunteer organizations, General Contractors, distributors, and suppliers. They all play a crucial part in your success.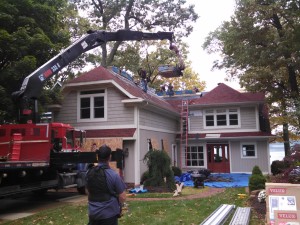 For example we use ABC Supply Co and our main supplier for roofing. Without a doubt they have been a key component to our success and continued success.  I see other roofers bounce around from one supplier to the next looking for the cheapest product, price cut, or deal.  But you never forge a relationship that way.  We might not get the cheapest price on everything we buy, but we get superior service. Along with networking opportunities, referrals, training and education.
And you can't ignore the fact that you are just more familiar with one another. That speaks volumes in a business relationship.  When you can anticipate your suppliers (or customers)  need or response, you can move more rapidly and be more flexible.  When I say to ABC, "Hey I forgot to tell you on that order yesterday to include OSI sealant instead of tar," they reply, "Already taken care of.  We have a note to never send you tar."  That's knowing your customer.