Both life and the weather in Mackinaw City, Michigan, may be erratic. Your rubber roof may suffer damage from the regular temperature changes, the occasional storm, and the harsh winter weather. Be at ease, though! Empire Contractors is ready to help when your rubber roof needs a little more attention by providing excellent rubber roof repair services. You can call us at 231-861-7221 to speak with the roofing specialists you should turn to for all your roofing needs. Let's investigate how we may assist you in maintaining both your peace of mind and your rubber roof in top condition.
Adaptability of Rubber Roofs
The robustness and durability of rubber roofing, commonly known as EPDM (ethylene propylene diene monomer) roofing, are lauded. Both residential and business structures frequently choose it. Even the most durable materials occasionally require some tender loving care.
Rubber Roof Repair Symptoms
Punctures and Tears: Over time, your rubber roof membrane may become punctured or torn due to debris, branches, or even foot traffic.
Leaks: As rubber roofs get older, they could start to leak around flashings, seams, or other damaged areas.
UV Damage: Your rubber roof may sustain UV damage from the harsh Michigan sun, making it brittle and less efficient in keeping out moisture.
Shrinkage: Rubber roofs may shrink as they age, leading to gaps.
How Empire Contractors can help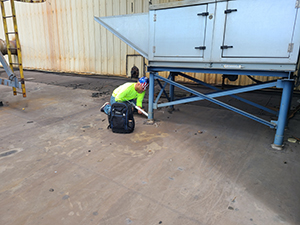 Empire Contractors specializes in rubber roof repair and provides a range of options to handle the following typical problems:
Patching and Sealing: We'll locate any holes or tears in your roof and expertly fill them in and seal them to restore the waterproof integrity of your roof.
Leak Detection and Repair: To keep your interior dry and safe, our professionals will find the cause of any leaks and offer reliable solutions.
UV Protective Coatings: We can apply specialized UV protective coatings that prolong the life of your rubber roof in order to prevent UV damage.
Inspections: Regular roof inspections are essential to stopping problems before they worsen. We provide rigorous inspections to find potential issues as soon as possible.
Rubber Roof Restoration: We can offer a complete restoration to extend the life and effectiveness of your rubber roof if it is exhibiting indications of aging or shrinkage.
Call us now!
Empire Contractors is your go-to roofing company in Mackinaw City, Michigan, when your rubber roof requires repair. Call us at 231-861-7221 right away, and we'll help you bring your rubber roof back to its former splendor. Choose Empire Contractors for superior rubber roof repair services and experience peace of mind under your dependable, durable roof. Don't let roofing problems get you down.