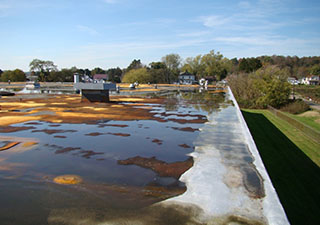 Looking for a team you can trust with your flat roof replacement in Wyoming, MI? Look no further than the team of experienced professionals at Empire Contractors. With more than two decades of service records in the area, we know how to appropriately handle all types of flat roofing systems and make sure your roof is destined for success for the long term. We are proud to bring long-lasting, affordable solutions to building owners, property managers, and more in the area and we're sure you won't be disappointed with the quality service you and your roof receive when you choose to work with us. Flat roofing systems were designed to last and with the team at Empire Contractors handling your roofing needs from the start, you can be sure your roof will have the chance to succeed. With several main types of flat roofing systems, our knowledgeable roofers will make sure you get the one best fit for your needs and your budget. Get your roof the trusted assistance it needs, call our team today at (231) 861 – 7221.
Know Your Options
At Empire Contractors, we offer our customers a wide array of options when it comes time for a new roof and we'll make sure you know the benefits of each type so you can get the one that will work best for you. If you have a restaurant that you need protected and you're worried about the grease deteriorating your roof, then a PVC roofing system is likely the way to go. If you want the most cost-effective option while still knowing you're getting a trusted, reliable roof, then a rubber roof is probably the best choice! Whatever your needs, we're sure we've got a roof that will work well for you! Call Empire Contractors for simple and reliable roofing solutions.
Reach Out Today
If the time has come for a flat roof replacement on your building in Wyoming, MI or the surrounding areas, you can trust in the team at Empire Contractors to get you a new roof that will be fit to last for years. We're here to keep you protected and we'll make sure you always have a trustworthy roof atop your structure. Reach out today at (231) 861 – 7221.