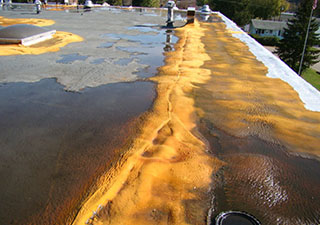 Whether you need a new roof because of the its age, incorrect installation, food traffic, or the weather, Empire Contractors has you covered. We take on all sorts of commercial roofing projects in Norton Shore, MI. Get an estimate on a flat roof replacement by calling us today at (231) 578-4760.
Why Choose Empire?
With service records dating back twenty years, Empire Contractors has garnered a great reputation in Michigan. We do roofs the right way and offer a range of cost-effective roofing solutions. Our company focuses on repairing, restoring, and installing roofs optimally. We also help improve the energy-efficiency of commercial buildings with green roofing solutions.
Roof Restoration
A lot of people are surprised to find that a roof coating can solve many of the issues that a flat roof faces. This means that in many cases, restoring a roof can postpone the need for a flat roof replacement significantly. In fact, a flat roof with a new roof coating can last an additional 10+ years. Since a roof coating is quite cost-effective and improves the energy efficiency of a commercial building, it's definitely an option to be open to.
Expert Roof Installation
The experienced craftsmen at Empire Contractors have been installing commercial flat roofs for a long time. Our roofs hold up against all four seasons. We know this area and pay close attention during the installation process to make sure that everything is done correctly.
We offer exceptional roofing services at low prices. Aside from flat roof replacements, you can rely on Empire Contractors for roof repairs, roof maintenance, and free roof inspections. Our goal is to help the roofs of our clients last as long as possible. We also make customer service a top priority and get out to clients quickly.
Call Us Today!
Working with a commercial roofing company that doesn't have several years of experience is risky. Empire Contractors takes risk out of the equation with a supremely qualified team of roofing specialists who are dedicated to their craft. If you have a commercial building in Norton Shores, MI that needs a flat roof replacement, call us at (231) 578-4760 to receive a free estimate.