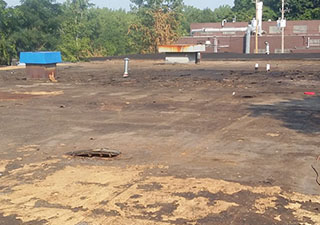 Did you know that as many as 80% of all commercial roofs are replaced before it's really time? When it comes to a project as big and expensive as replacing your commercial building's roof, it's something that shouldn't be left to chance – call Empire Contractors today at (231) 861-7221 to get a second opinion and schedule a free estimate with Michigan's most reliable, trustworthy, and consistent commercial roofing company.
If your commercial building's flat roof is, indeed, in need of replacement, you won't have to worry with Empire Contractors by your side. We've been building, upgrading, and replacing flat roofs in Grand Rapids and throughout Michigan for more than 20 years. For quality service, world-class workmanship, and courteous customer care, get in touch with Empire today.
We Install All Types Of Flat Roof Systems!

When the time comes to replace your flat roof, it's a great opportunity to step back and evaluate what type of roofing system you want. We at Empire Contractors are experts in a wide range of flat roofing systems and can help you navigate the many options and choose the one that will best fit your needs, wants, goals, and budget.
A few of the flat commercial roofing systems we work with include: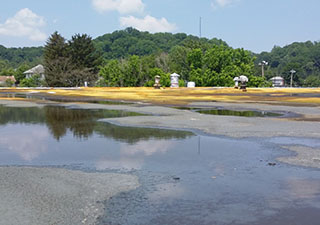 TPO
PVC
Metal
EPDM (rubber)
Modified bitumen
Spray foam
Built-up
And more!
To learn more about our commercial roof replacement procedures, contact us today at (231) 861-7221.
Flat Roof Replacement Options

One other choice many customers have when replacing their flat roof is whether to cover over their existing roof or whether to completely tear off the old roof and replace it with a new membrane. Let us walk you through each option:
1) Re-covering is a good choice if your existing roof is structurally sound and the old membrane is still in okay condition. If your roof is strong enough to support the weight of a new roofing system, this is a good option.
2) However, if your old membrane has significant damage or if the underlying roofing structure can't support the added weight of an additional roofing system, tearing off your old roof and installing a new, stand-alone roofing system, is your best bet.
At Empire Contractors, we've handled dozens of re-covers as well as full-scale roof tear offs and replacements. We can come out to your location, assess your old flat roof, and give you our recommendation for your best solution.
Michigan's Premier Installer Of Flat Roofs

Empire Contractors is Michigan's premier commercial roofing contractor, specializing in flat roof replacement. If your flat roof is starting to show its age or if you are concerned about damages, give us a call today at (231) 861-7221. You'll be in good hands, with a job guaranteed to be done right the first time!