A flat roof replacement should be done by a commercial roofing company that will make sure everything is done perfectly in every part of the process. Without proper installation, a roof is going to fail quicker than you thought it would. Commercial roofs are created to last a very long time. With proper installation and maintenance, commercial roofs may last you for decades. Empire Contractors offers great flat roof replacements, and we have a long list of choices so that you can get the roofing system that fits your budget and needs. Commercial building owners in Gaylord, MI have nothing to worry about when they can call the team at Empire Contractors. Call us at (231) 861-7221.
All Amazing Choices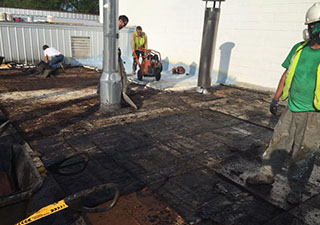 At Empire Contractors, we think choices are amazing to have and that is why we offer such a long list of roofing systems. Every roof we provide is a great choice that when maintained and installed properly could last you many decades. We provide our customers choices because it is good to be sure you are getting the roof that will go with what your building is needing, this will allow for the longest possible lifetime out of your roof. From our single-ply roofing systems to our metal roofing systems to our rubber roofs and a lot more, we will be sure you know what the pros and cons are of each roofing type so you can make the best choice. If you need more of a chemical resistant roof then TPO or PVC roofs are the way to go, if you want the more cost effective choice, then an EPDM roof is better for you. Don't get stressed out about how many choices there are, our highly experienced contractors are here to help and are ready to answer any question you have.
Call Us Today
With summer rapidly approaching, now is the best time to have your roof inspected to see if your flat roof needs a replacement. If your roof needs to be replaced, our team will help you choose a roofing system and install it as soon as possible. If your roof only needs a coating, we will coat your roof as quick as possible. Contact Empire Contractors today at (231) 861-7221.