The team at Empire Contractors are true flat roof experts. We've been repairing, restoring, and replacing these types of roofing systems since the late 1990's. Over these past few decades, our company has earned the trust of many clients in Kalamazoo, MI. Operating out of Grand Rapids, we're prepared to provide clients across the state with high-quality commercial roofing services. For a flat roof repair, you can reach us today at (231) 861–7221.
Our Repairs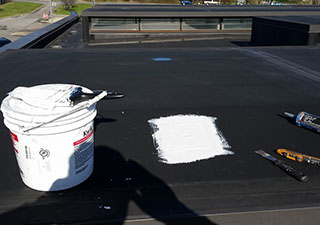 Flat roof repairs are often straightforward. However, locating the leak(s) is where things can get tricky. Luckily, our experienced roofing specialists are trained to detect leaks on all types of flat roofing systems. We'll locate these problem areas and fix them up before your roof accumulates more water damage. Knowing how to provide thorough roof inspections is an essential part of being a good roofing contractor.
With Empire Contractors, you can be confident that your commercial roof will be repaired properly on the first visit. However, many other roofing companies in the area fail to locate these leaks during the inspection which can cause a costly premature roof replacement along with other issues. In order to avoid serious problems from developing, choose Empire Contractors to inspect your roof regularly.
Roof Coatings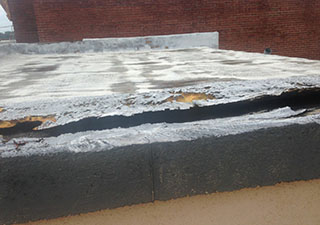 Another way to go about fixing a leaking flat roof is to restore it with a roof coating. Our roof coatings not only stop flat roofs from leaking, but they also improve the energy-efficiency of commercial buildings. This affordable service can add an extra decade to the lifespan of your flat roof.
Flat Roof Replacements
In the worst-case scenario, your flat roof will require a replacement. If this is the case, you can at least be happy to know that Empire Contractors will install your new flaw roof perfectly and for a great price. After we inspect your roof, we'll let you know whether your flat roof needs a repair, roof coating, or a replacement.
Call Us Today!
If you are still trying to find a trusted roofing contractor for a flat roof repair, the guys at Empire Contractors are ready. We look forward to working on more projects in Kalamazoo, MI. For a free quote, give us a ring at (231) 861–7221.