A tear, leak, repair, or restoration – there are a thousand things that can go wrong with a roof. However, property owners must have a reliable commercial roofing service to turn to when the need occurs. At Empire Contractors, we understand that the roof is the most important part of your property's structure and is also the most expensive part. This is why we make sure that we cater to our clients' roofing problems to the best of our abilities. We provide everything that a roof owner might search for: repair, restoration, replacement, application, and inspection. If you are currently in the Albion, Michigan, area and searching for trusted commercial roofing services, call us at (231) 861-7221.
Roof Inspections
The roof is the most crucial part of the structure, as, without it, the purpose of protection is ruined. Anything from heavy foot traffic, harsh chemicals, rainfall to animals can cause immense damage to a roof. These damages might take time to present themselves, and a common person without the knowledge of construction might fail to realize these until it's too late. It can end up costing you a hefty amount in replacing it.
However, all of this can be avoided by subscribing to our roof inspections. This service enables you to get your roof examined by a professional who has the experience and has been through a thorough training process to identify any and all damages. Many of our clients in the past have ended up saving thousands of dollars because the issue was identified at a stage where it did not demand a drastic solution like repair or replacement.
Why Choose Us?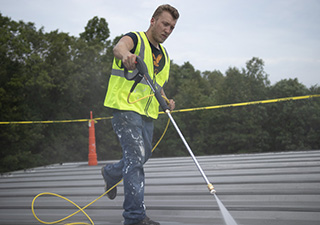 At Empire Contractors, we are known for our years of success and our long list of satisfied clients. Over the 20 years of operation, we have made a name for ourselves for being the most dedicated, experienced, and professional commercial roofing service in the industry.
We have a team of the most experienced technicians who have been through thorough training to expand their already impressive skill set. They are equipped with premium quality materials and the most advanced machinery to carry out a durable and strong job.
At Empire Contractors, we believe in building trust and roofs.
Call Us Today!
If you are in the Albion, Michigan vicinity and have roof-related problems to take care of, then call Empire Contractors at (231) 861-7221. We provide the most extensive and professional commercial roofing services in the area. The reputable Choice Roof Contractor Group™ also endorses us.