Are you having troubles finding reliable commercial roofing contractors in Waterford, MI and surrounding areas? Empire Contractors has you covered with commercial roofing systems that are a lot cheaper than anyone else in our area. Our team will complete any task you want them to. You will receive a free estimate with our services involved. You can reach us at (231) 861-7221 and learn more about how we can help your commercial roof.
Commercial Roofing Services We Offer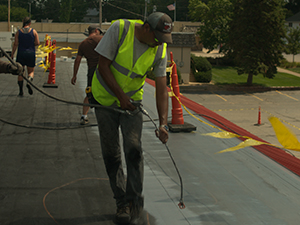 Empire Contractors is the only commercial roofing company you will need to call. Our team will care for your roof for the foreseeable future. This is because our team has every single qualification they need to do any commercial roofing service we offer. If you need one of our team members to inspect your roof, replace your roof, or any of our other services, we are one phone call away. The commercial roofing experts at Empire Contractors are the greatest commercial roofers in the area.
Roof Coatings Vs. Roof Replacements
There are many advantages from getting a roof coating instead of a roof replacement. To start, a roof coating is a much cheaper option than a replacement. Coatings won't cause a lot of noise unlike a replacement. Roof coatings will also help your roof be watertight for a long period of time.
About Empire Contractors
We have finished a lot of tasks on multiple commercial buildings. You can trust our team to finish our assignment in a timely fashion and with the highest quality workmanship. At Empire Contractors you will receive outstanding customer service and individualized attention.
Our team will follow every safety regulation and all our team members are fully insured and licensed. We have a great reputation for giving our clients the highest quality commercial roofing services. We have been providing our area with high quality commercial roofing systems for more than 20 years.
Contact Us Today
At Empire Contractors we are still trying to attain a better reputation. You can contact us today at (231) 861-7221 if you are having troubles with your Waterford, MI commercial roof. We're honored to remain a top commercial roofing contractor in Michigan.