Finding a commercial roofing contractor that offers exceptional roofing services at low prices is not always easy. Luckily, the people of Norton Shores, MI can always rely on Empire Contractors for all of their roofing needs. Get a free quote on a roofing project today by calling our team at (231) 578-4760.
Years Of Service Records
Empire Contractors have been successfully completing roofing projects for over twenty years. Our well-trained roofers are all licensed and insured. We have a number of longterm clients who know that they can trust us when they need a roof repair, roof coating, or roof replacement. Our strong customer service record and flawless safety record gives our clients peace of mind.
Free Roof Inspections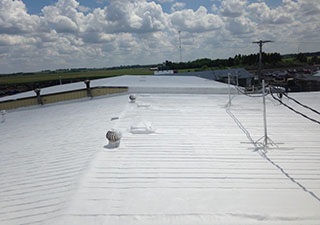 Our company offer free roof inspections to the people of Michigan. Our roof inspections are extremely thorough. When our roofers get a chance to inspect your roof on a regular basis, it can lead to a significantly longer roof lifespan. This means fewer roof replacements and less expensive roof repairs.
Roof Restoration
The longer a roof lasts, the better off you are. Paying for the labor and materials needed for a new roof is costly and time consuming. We use top roofing materials and our team is extremely experienced restoring commercial roofs with roof coatings. A roof coating has numerous benefits. It not only prevents roof leaks and restores the condition of a roof, but it also helps to improve the energy-efficiency of a commercial building.
Customized Roofing Solutions
Empire Contractors is made up of formally trained technicians who help people get the most out of their investment. A roof is a valuable asset that requires maintenance from experienced roofing specialists. We will help you save big on your roof with cost-effective and customized roofing solutions. Empire Contractors is a full service commercial roofing company that clients can rely on for first class roofing assistance.
Call Us Today!
The team at Empire Contractors hopes to assist more clients in Norton Shores, MI. We are the top commercial roofing contractor around and are happy to provide free onsite estimates. Get in touch with our team today at (231) 578-4760 to get a free roof inspection.