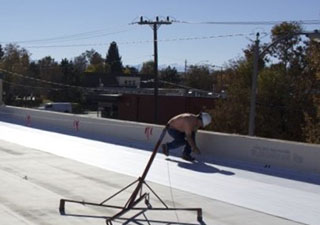 When you have a professional commercial roofing contractor at the ready to help when you have a roof in need, you're allowing yourself the peace of mind you deserve! At Empire Contractors, we know your roof is a major investment and we're always here for you to help you keep it protected! With such a major investment, it only makes sense to want the most from it and we're here to make that happen. Your roof was designed with longevity in mind and when you hire Empire Contractors, we'll do our best to ensure you get a long, successful life from your roof! We are proud of the great name we have worked hard to build and maintain, and we believe you will be impressed with the unmatched customer service and workmanship you and your roof receive. With all of the unknowns in the world right now, it's important to keep yourself safe and we are proud to now offer no-contact appointments and 100% virtual experiences so that you can be certain you are protected while getting your roof what it needs. Even without face to face interaction, you'll still receive the same great customer service we're known for and you'll never have to wonder what's going on with your roof with our constant, open communication. For service in Manistee, MI, give us a call today at (231) 861 – 7221.
The Empire Difference
From the moment you call on us, you will be treated like family and your roof will always be worked on as if it were protecting our own business and employees. We enjoy building relationships with our customers and giving you worry free protection from your roof. High quality customer service and workmanship are incredibly important to us, but without quality, dependable products, they are nothing. We provide the best of it all so that you can always be confident in the protection of your building! If you want to know you're in great hands and your roof can get the finest service and products around, call our team anytime!
Reach Out Today
Don't let the need for a commercial roofing contractor stress you out, call Empire Contractors today to learn more about our complete list of commercial roofing services and solutions. We'll make sure your roof can get the job done right all year long and we look forward to the opportunity to work with you! Reach out today at (231) 861 – 7221 for service in the Manistee, MI area.