When it comes time to find a reliable commercial roofing contractor you can trust in the Fruitport, MI area, the team at Empire Contractors is the one to call. For more than two decades, we have been providing building owners and managers with full-service roofing solutions and we're here to help you get the most from your roof. Be it with a simple repair or a roof restoration, we've got you covered and will make sure you always have a dependable roof atop your building. Our professionally trained roofers have seen what our climate can do to our roofs and we know the best ways to keep your roof performing like new while keeping your roofing costs to a minimum. Don't let yourself get overwhelmed with a roof in need, at Empire Contractors, we'll thoroughly inspect your roof and make sure it's ready to keep you protected all summer long. Give us a call anytime at (231) 861 – 7221.
Budget Friendly Solutions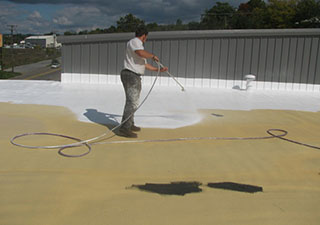 At Empire Contractors, we bring an extensive list of affordable and dependable services and solutions to the area because we believe that as a full-service commercial roofing company, it's our job to be your one-stop shop for all things roofing. As a professional roofer, we know that your roof is a major investment and we will work to help you keep it protected, so that in turn, it can properly protect you. Your roof was designed to last for decades and with the help of our knowledgeable roofers, yours will have that chance. If you want to get the most from your roof while ensuring your costs aren't through the roof, give us a call today to find out about our incredible roof maintenance plans.
Reach Out Today
With Empire Contractors working for you, you won't have to stress about your commercial roof any longer! Summer will be here before we know it, and with that means more tests for your roof. Give yourself the peace of mind you deserve knowing your roof will pass with flying colors, let our roofers get the job done right from the start. We are honored to be the commercial roofing contractor to call in Fruitport, MI and we look forward to the opportunity to work with you. Reach out today at (231) 861 – 7221.