Investing in property comes at a huge cost. However, it is not just a one-time cost; owners have to invest small and regular amounts into the building as maintenance costs. Investing small amounts regularly can allow owners of commercial and industrial buildings to save up later. From the installation process to repairing, restorations, replacements, and inspections, your roof might require many kinds of service. Empire Contractors is one of the best commercial roofing companies currently operating in the Albion, Michigan, region. We provide a diverse portfolio of services that can assist your roofing needs. If you are currently looking for a dedicated commercial roofing company, then give us a call at (231) 861-7221.
Why Choose a Commercial Roofing Company?
Commercial and industrial building owners and managers do not always hire roofing professionals to tend to roof issues; rather, they have an employee look. It can be difficult to identify damages if you do not have fair experience in the construction business, as sometimes they do not show. Hiring a roofing contractor specialized in commercial and industrial systems has many benefits for your roof and budget.
Firstly, it allows you to have someone to hold accountable. Companies like Empire Contractors have different departments and staff who are trained in their relevant fields. They know how to operate advanced machinery and have an understanding of recent trends. Their experience and expertise can mean that you can rely on their service. Added warranties are also offered to provide added assurance to customers.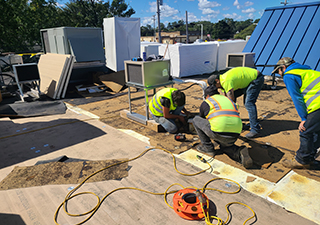 Secondly, established commercial roofing companies have a diverse portfolio of offerings. They provide different kinds of roofing systems and allow room for options. For example, Empire Contractors provide flat roofs, metal roofs, rubber roofs, and more and our roofers come prepared to deliver the proper solution for any type of roof you may have.
Lastly, companies deal with their clients with utmost professionalism. From your first interaction to even after completing the job, clients are given importance and respect. Your queries are promptly answered, and your opinions are taken into account.
Why Choose Us?
Empire Contractors is an established name in the roofing business scene of Michigan. We have a staff of experienced technicians with decades of experience in the construction business. Our quality services have earned us the endorsement from the Choice Roof Contractor Group™. From providing economical solutions to caring for our client's input, we make sure we treat our clients respectfully. We believe in building strong roofs and even stronger customer relations.
Contact Us
Call Empire Contractors today at (816) 207-3993 to hire the best commercial roofing company operating in the Albion, Michigan, area. We provide nothing less than the most premium service.