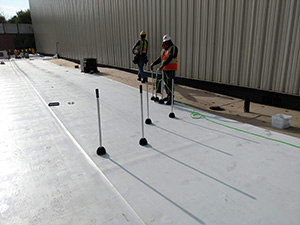 The commercial roofing industry continues to evolve. Thankfully, the team at Empire Contractors in Petoskey, MI, consistently stays at the forefront of the industry, providing cutting-edge solutions, such as single-ply roofing services. With our industry expertise and commitment to innovation, we empower building owners to protect their structures in the most practical and cost-effective ways possible. For further details or to schedule a consultation with our team, call us today at 231-861-7221!
Single-Ply Roofing
Your roof plays a critical role in ensuring not only the physical integrity of your building, but also the safety and comfort of those inside. Among the many options available today, single-ply roofing systems stand out for their impressive mix of durability, affordability, and ease of installation.
Single-ply roofing is a broad term encompassing several types of roofs that are composed of a single layer of waterproofing material. The two primary types of single-ply systems are thermosets, such as EPDM, and thermoplastics, such as PVC and TPO. Despite the variations in material, all single-ply roofing solutions share a common trait: they're designed to be strong, resilient, and suitable for a wide range of building types.
Benefits

Single-ply roofing offers many advantages. To begin with, single-ply roofs are lightweight, reducing the load on your building's structure. They also offer remarkable flexibility, making them suitable for buildings of various shapes and sizes. Furthermore, the ease and speed of installation means fewer disruptions to your operations.
Another compelling reason to consider single-ply roofing is its excellent weather resistance. These systems can withstand everything from harsh sunlight to torrential rain, making them an ideal choice for many climates. Single-ply roofing is also resistant to UV radiation, which helps reduce cooling costs.
Perhaps the most attractive feature of single-ply roofing is its cost-effectiveness. From its materials to its installation and maintenance, this roofing system is budget-friendly and, when properly maintained, boasts a long lifespan, reducing your expenses.
Contact Us
Here at Empire Contractors in Petoskey, MI, our team of certified roofing experts is ready to guide you through the process of selecting and installing your single-ply roofing system. We believe in transparent, honest communication, and we're committed to delivering a roofing solution that surpasses your expectations. For more information about single-ply roofing or to schedule an appointment, contact us today at 231-861-7221! We are your trusted partner, and we are ready to provide high-quality commercial roofing solutions.