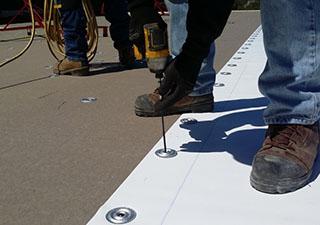 No matter what the kind of roof you have defending your commercial building, you can completely trust the team at Empire Contractors to make sure it is getting the care it deserves and needs so that your roof can continue to defend your building. We bring property managers and building owners in the Gaylord, MI area a complete list of commercial roofing solutions and services that will let them know they are going to be protected year round. From our rubber roof repair services to our roof coating solutions, we have you covered for what your roof needs and we will make sure that your roof will stay there all season long. Your roof was built to last for a long time and when you have the crew at Empire Contractors taking care of it, you can be sure it will last you that advertised time period it was built for. For dependable and affordable commercial roofing services throughout the state of Michigan, contact us today at (231) 861-7221.
All Around Quality

With the crew at Empire Contractors handling your commercial roofing needs, your roof will be in the best possible hands. We are still researching commercial roofing products that are high in quality and have continuously proven to beat father time. With our roofers outstanding workmanship and our high quality products, your roof will be bound for success and that is what we are looking to do for each commercial roofing job we get. With the highest quality, you can breathe easy when you hire the crew at Empire Contractors.
Total Coverage
With Empire Contractors, you won't have to stress about being sent to a separate commercial roofing company. Our crew can handle all sizes and types of commercial roofing systems and we will make sure yours gets the individualized attention it deserves. Our complete list of services is guaranteed to get you what your single-ply roof is in need of. Do you have any questions or concerns about your roof? If yes, call the crew at Empire Contractors at (231) 861-7221 and let them assist you with your Gaylord, MI roof.