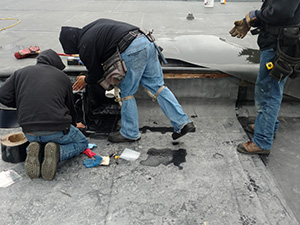 The team at Empire Contractors in Charlevoix, MI, understands the importance of a reliable commercial roof for your business. In addition to its aesthetic appeal, a well-maintained roof is fundamental to the safety and functionality of your structure. Therefore, if you are looking for rubber roof repair services, our team is your first choice. We are ready to help! To schedule your consultation, call us today at 231-861-7221.
Rubber Roofing
Rubber roofing, also known as EPDM (ethylene propylene diene monomer) roofing, is popular in commercial settings due to its durability and cost-effectiveness. Its inherent flexibility accommodates structural movements and temperature fluctuations, resulting in fewer cracks. This, in turn, leads to fewer and less expensive repairs. However, just like any other roofing material, rubber roofs can encounter issues such as blistering, ponding water, and seam failures. If left unaddressed, these can lead to significant damage.
Our Repairs

We have the expertise and equipment to identify and rectify these common problems effectively. Our comprehensive rubber roof repair services are designed to extend the lifespan of your roof, improving its performance and thereby the safety of your structure. We don't merely address the superficial signs of damage, but we dig deeper to eliminate the root cause. Our rigorous inspection and repair process ensures that the issue will not return, giving you peace of mind.
While a rubber roof is robust, it is not invincible. Extreme weather conditions and natural wear and tear over time can deteriorate it. Regular inspections and timely repairs are crucial to maintain the longevity and functionality of your rubber roof. That's where our team can help, offering reliable and prompt repair services. With our crew by your side, you can receive solutions that will last for years to come.
It's crucial to understand that commercial roofing is a significant investment, and trying to save money by performing repairs yourself can lead to more severe damage and additional costs in the long term. This is why it is important to let the professionals handle it. Our experienced team is well-equipped to meet your rubber roof repair needs, ensuring optimal outcomes and minimal disruption to your daily operations.
Contact Us
The team at Empire Contractors in Charlevoix, MI, is proud to deliver top-tier commercial rubber roof repair services that address your needs. We strive for excellence in every task we undertake, guaranteeing customer satisfaction. The next time your rubber roof needs repairs, call us at 231-861-7221!