Looking to hire a roofing company that can deliver a roof coating and other types of cost-effective solutions? If your building is in Portage, MI, Empire Contractors is the lead choice. To get a quality roof coating, give our team a call at (231) 861-7221. Our roofing specialists are ready to show you that they are some of the best at what they do!
Decades Of Experience

If you are looking to hire a team that you can depend on, it's important to choose one with roofing specialists who have ample experience. Here at Empire Contractors, our craftsmen have spent several decades working on roofs. If you are on the lookout for a commercial roofing contractor in Michigan, be sure to give our team a call!
Roof Restoration Benefits
There are plenty of good reasons to restore a commercial roof. For starters, roof coatings are easy and affordable. It's a low risk investment that can pay off big time. A roof that has been restored with a roof coating can last upwards of a decade longer. In later years, you can just reach out to Empire Contractors to have it restored again! Roof coatings help people avoid having to replace roofs prematurely!
Lower Utility Costs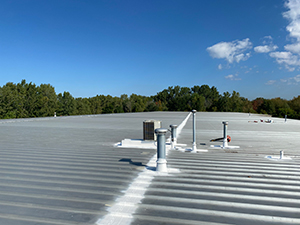 A new roof coating will also have you paying less on energy bills for years to come! A roof coating from the experts at Empire Contractors can substantially improve the energy efficiency of a building because roof coatings reflect the sun. This is just one more reason to invest in this solution.
About Our Company
For years, the roofers at Empire Contractors have been showing the people of Michigan that they can handle any kind of roofing project. Our versatile craftsmen will be able to find the right solution for your building's roof. Whether your building needs new roof installation or some roof maintenance, we have you covered!
Call Us Today!
For a roof coating that works the way it should, those in Portage, MI can depend on the experienced roofers at Empire Contractors. We provide a large range of services, including roof restoration. We have seen the many benefits that roof coatings have on roofs firsthand! For a project estimate, get in touch with us today at (231) 861-7221.