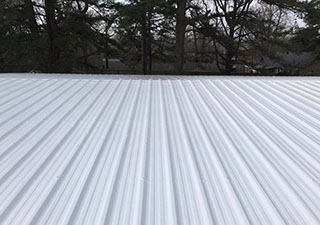 No one should have to get expensive roof replacements when not necessary. With a roof coating, your roof will be fully restored and ready to go. Empire Contractors is the top commercial roofing company available to clients in Kalamazoo, MI. To learn more about our roof restoration services, give us a ring today at (231) 861-7221.
About Roof Replacements
A roof can only be restored when it is still in decent enough condition to be fixed. However, if you wait too long, a roof replacement will be the only option. While roof replacements are significantly more expensive and time-consuming than roof coatings, Empire Contractors offers quality roof replacements at competitive prices.
The Benefits Of Roof Restoration
The roofing specialists at Empire Contractors have been applying roof coatings to all types of commercial roofs for years. This seamless and waterproof layer protects your roof from developing new leaks. It will restore the materials on your roof and keep your roof intact for 10+ extra years.
A roof coating is quite a bit cheaper than a roof replacement. We'll be in and out quickly so that you can get back to the daily routine. Because a roof coating is so lightweight, your roof can easily be coated again in the future without you needing to worry about adding too much weight to your roof. Moreover, roof coatings will increase the reflectivity of your roof which makes for much lower energy costs.
About Our Company
Empire Contractors serves clients across the state of Michigan. Since the 1990's, we have been repairing, restoring, and replacing roofs flawlessly. Our dedicated team of roofing specialists end leaks and minimize costly roofing expenses whenever possible. We're a full-service roofing company which means you can reach out to us whenever your roof needs work!
Call Us Today!
A roof coating is a cost-effective roof restoration service that helps people save a significant amount of time and money on their roofs. The team at Empire Contractors does it all for clients in Kalamazoo, MI. Whether you need a roof coating, roof repair, or a roof replacement, give our experts a call today at (231) 861-7221 and they will be happy to assist you.