Do you have a commercial building in Kalamazoo, MI that needs a new flat roof? Empire Contractors is the most reliable team around to take care of your flat roof replacement. With our appealing mixture of low prices and exceptional craftsmanship bundled with high-quality materials, we're the easy choice! For a free quote on a new roof, reach out to us today at (231) 861–7221.
Flawless New Roof Installation
The company that you hire to install your new roof plays a large role in how long it lasts. If you want a long-lasting roof with little maintenance required, choose Empire Contractors to replace your flat roof. We'll clean up all the debris from your old roof and put a new flat roof in its place in a timely, safe, and efficient manner.
There is quite a large selection of flat roofs out there. The roofing specialists at Empire Contractors will recommend the best type of flat roof for your building by considering your particular budget and preferences. Roofs like TPO and PVC are excellent at improving the energy efficiency of your building while an EPDM roof is a cost-effective choice for large roof surfaces.
Roof Inspections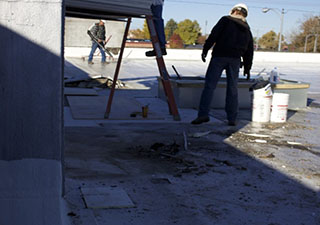 One of the best ways to save time and money on your roof is to schedule roof inspections regularly. These inspections will catch roof issues early before they cause costly damage and will even help to prevent certain roof problems altogether. We offer thorough roof inspections and are true experts in the art of roof leak detection.
Roof Restoration
Another way to add more years to your flat roof is to restore it. At Empire Contractors, we use roof coatings to restore the condition of our client's roofs. A roof coating improves the overall energy efficiency of a building and will prevent a roof from leaking for several years after application.
Call Us Today!
The flat roof experts at Empire Contractors do all types of roofing services for clients in Kalamazoo, MI. When your building needs a high-quality flat roof replacement at the best prices, give us a call today at (231) 861–7221. We'll inspect your roof for free and give you a price on a new roof or a roof coating.