Flat roofs can develop leaks when they get up there in age. Unlike roofs with steep slopes, a single leak on a flat roof can cause a world of water damage in just a short period of time. Hiring a reliable roofing company like Empire Contractors for a flat roof repair as soon as possible is crucial. If you're in Whitehall, MI, call us at (231) 861-7221 to have your commercial roof inspected as soon as this week.
Common Flat Roof Repair Needs
There are a few common causes of flat roof leaks. For starters, any roof with seams is going to have more of a potential to leak. If your roof was installed poorly or if the seams have simply started to separate with age, water has a direct path under the roof. When we inspect a flat roof, we pay close attention to the seams to ensure that no water can get in.
Flat roofs can sometimes have wrinkles in the membrane which also gives a flat roof a better chance of leaking. Tears and punctures can also occur from foot traffic or things like fallen tree branches. Finally, ponding water might start developing on a flat roof that has a poor drainage system.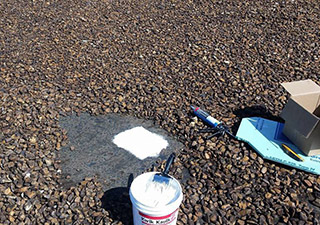 At Empire Contractors, we inspect roofs in Michigan for free. Our roofing specialists are well trained in roof leak detection and have several years of experience repairing commercial flat roofs. If your flat roof is beyond the point where it can be repaired or restored, our team will give you a free estimate on a flat roof replacement.
Roof Coatings
Flat roof systems can be easily restored with a roof coating. Here at Empire Contractors, we use roof coatings to both improve the energy-efficiency of commercial buildings and to keep commercial flat roofs free from leaks. This thin waterproof layer improves a roofs condition by providing seamless protection.
Call Us Today!
Empire Contractors offers a number of commercial roofing services to clients in Whitehall, MI. People can reach us at (231) 861-7221 for reliable and cost-effective roofing solutions. We can be by to your building soon after you call to give your roof and effective flat roof repair.