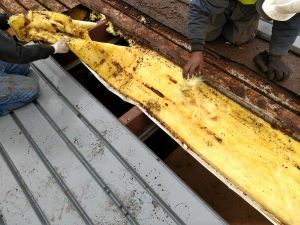 What do you do if you have problems with your flat roof in St. Joseph, MI? You need the best company to repair it. Who do you call? That's easy – call Empire Contractors to repair your flat roof. We are able to handle all types of flat roof repairs. With a thorough inspection and the appropriate solution, your flat roof will be repaired in no time. Call us at (231) 861-7221.
Detecting the Problem
When you call us, we will schedule a time to inspect your roof. We will conduct a visual inspection and look for any problem areas in order to fully repair your flat roof. This inspection is important to ensure that we perform a complete repair, bringing your flat roof back to optimal condition.
Finding The Solution
After the inspection, we will suggest several solutions. We will then present them to you and explain each one in detail. This will include the price for each one as well as the expected duration of the project. Once you have decided on which solution works best for you and your budget, we will begin repairing your flat roof.
Contact Us Today
Problems with your flat roof can be very stressful. It is essential to address them quickly to keep them from worsening. We at Empire Contractors have been extensively trained to repair your flat roof. If you have a commercial building with a flat roof in St. Joseph, MI, call us at (231) 861-7221.