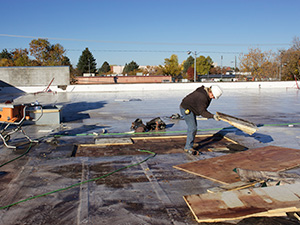 The flat roof repair team at Empire Contractors in Dowagiac, MI, is ready to solve any issues your flat roof may have. With our many years of experience, we can customize each repair to our customers' needs. Empire Contractors is well-known for its customized repairs throughout the state of Michigan. Allow us the pleasure of repairing your flat roof today! Call us at (231) 861-7221. See for yourself why so many property owners have trusted us since 1998.
Most Common Problems
The most common issue with flat roofs is their propensity to develop leaks due to their flat surface. In addition, flat roofs struggle to effectively shed water when they are not in optimal condition.
If the roof cannot drain away water, it is very easy for it to enter your building. When the drainage system is blocked, water will begin to accumulate on the roof and create weak spots for the water to seep into your building. Having the experts at Empire Contractors maintain your roof on a regular basis will help prevent this from occurring. We will employ the best methods to take care of your specific roof.
Flat Roof Repair Services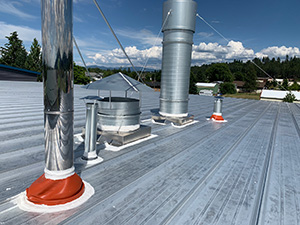 Once we have inspected your roof, we will provide you an estimate. This will let you know exactly how much the repairs will cost. These repairs could include only a small area of your roof, or they could be a large section. A repair is the best way to address the issues your roof has and avoid replacing it. On average, a flat roof will last up to twenty years before it requires a full replacement.
You can walk on a flat roof, but keep in mind that there are risks. For example, you could tear the roof and even puncture the membrane. If you need to go onto a flat roof, we suggest you choose a warmer day and use boards to walk on it.
Contact Our Crew Today
Are you looking for the best company to manage your flat roof repairs? Our crew in Dowagiac, MI, is the best in the area. We at Empire Contractors are ready to put your mind at ease with our flat roof repair services. Contact our crew today at (231) 861-7221. Once we repair your roof, you'll see why so many property owners in Michigan choose us!