Empire Contractors has been providing reliable commercial roofing services and solutions to the community of Lansing, MI for more than two decades and our team of professional roofers is ready to get your roof the care it needs so that you can be confident it can protect your building properly once again. As a full-service commercial roofing company, there is no roof we won't work on and there's no service we can't complete for you. We have worked hard to build our team of expert roofers and are proud to say that when you call on us, any one of our roofers that comes out to your roof will provide you with only the finest customer service and workmanship around! We work hard to make sure our customers can be stress free about their roofs, if you think you have a roof in need, reach out to us today at (231) 861 – 7221.
We Do It All!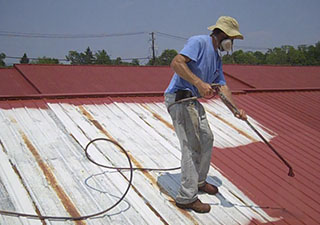 When you call on us, we're happy to say that you can be certain our team will get your roof taken care of in no time. We know how important your roof is to the protection of your building and we're available year-round to make sure it can get the services and repairs it needs to get the job done right. Our complete list of services is sure to get your roof what it needs, whether it's a simple roof repair, a more comprehensive service like a roof restoration or even a full roof replacement, you can rest easy knowing when you call on us, you're always covered! Professional and reliable services are a guarantee when you work with the team at Empire Contractors!
Call Today!
Don't let the needs of your commercial roof get you bothered any longer! Trust your roof to the professionals at Empire Contractors and we're sure you won't be disappointed with the customer service and workmanship you and your roof receive. We have professionally trained roofers and a long list of commercial roofing services that will always allow your roof to be protected. If you're a building owner or manager in Lansing, MI, you don't need to worry about a thing when you call on us. We're here to get your roof back to peak performing condition while keeping your roofing costs down, call today at (231) 861 – 7221.