Are you a Mackinaw City, MI, business owner seeking a dependable commercial roofing contractor? Look no further because we understand that your commercial property is more than just bricks and mortar; it's the foundation of your success. We are Empire Contractors, your trusted local experts in commercial roofing. Contact us today at 231-861-7221, and let's embark on a journey to elevate your business's protection and prosperity.
The Importance of Commercial Roofing
Your commercial property's roof is a crucial component that often goes unnoticed until a problem arises. It's not merely an overhead cover; it's your first line of defense against the unpredictable Michigan weather. A well-maintained and sturdy roof safeguards your investments, employees, and customers. Beyond its protective function, your commercial roof also contributes significantly to the aesthetics and professionalism of your business.
Our Comprehensive Commercial Roofing Services
At Empire Contractors, we offer a comprehensive range of services tailored to meet the unique roofing needs of your business:
Roof Installation: Whether you're constructing a new commercial space or need a roof replacement, our expert team specializes in installing durable, high-quality commercial roofs that stand the test of time.
Roof Repairs: From minor leaks to extensive damage, we have the expertise to assess the issue, recommend cost-effective solutions, and execute repairs efficiently to minimize disruption to your business.
Roof Inspections: Regular roof inspections are essential for identifying potential issues before they escalate. Our meticulous examinations ensure that problems are detected early, saving you time and money.
Roof Maintenance: Preventive maintenance is key to extending the life of your roof. Our customized maintenance plans are designed to keep your roof in optimal condition throughout the year, preventing costly surprises.
Emergency Roofing: Roofing issues can arise unexpectedly, potentially disrupting your business operations. Our emergency roofing services are available 24/7 to provide prompt solutions and protect your business assets.
Why Choose Empire Contractors?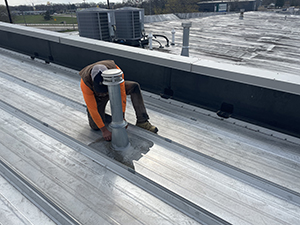 Local Expertise: We are deeply rooted in the Mackinaw City community, which gives us a unique understanding of the local weather conditions and specific roofing challenges that businesses face in the area.
Quality Workmanship: Our dedicated team is committed to delivering top-notch workmanship. We use industry-leading techniques and materials to ensure your commercial roof remains strong, reliable, and visually appealing.
Client-Centric Approach: Your satisfaction is our top priority. We provide personalized service, clear communication, and a commitment to addressing your unique roofing needs promptly and professionally.
Licensed and Insured: Empire Contractors is a fully licensed and insured commercial roofing contractor, providing the peace of mind that your project is in capable hands.
Call us today!
In conclusion, your business deserves the best when it comes to commercial roofing contractors. Empire Contractors is your trusted partner in Mackinaw City, MI, dedicated to ensuring your business remains protected and thriving.
Don't wait until roofing issues affect your bottom line. Take proactive steps today by contacting us at 231-861-7221, and let us be your solution for commercial roofing excellence.